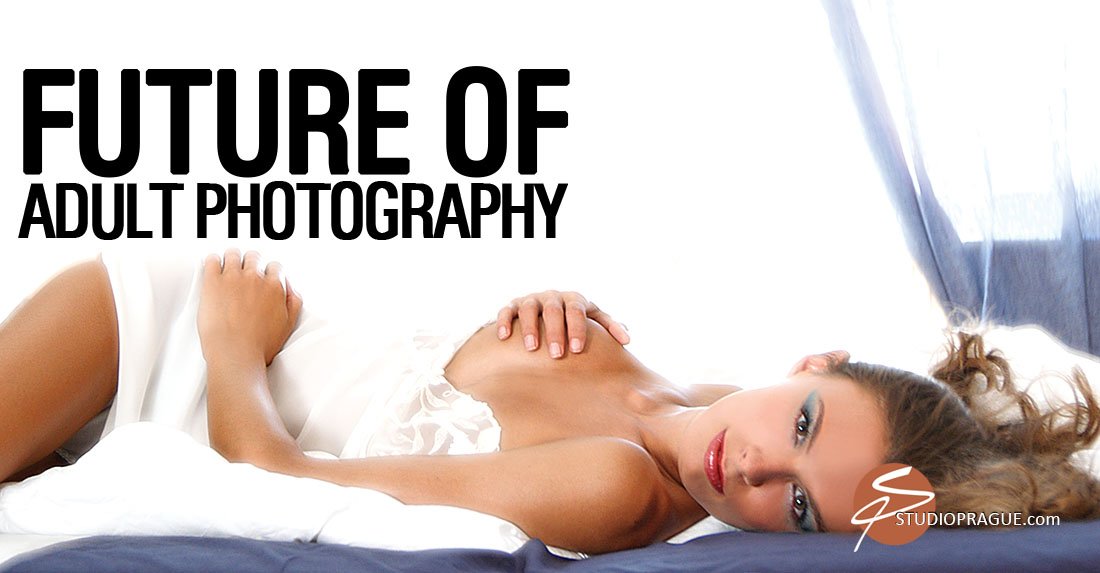 [Part 07/23 | Module 1: STYLES & GENRES]
The adult photography industry has been constantly evolving for many decades. But the recent push towards "beyond the nudity" photography should be critically looked at. And in my opinion, it should not generally be viewed as new standard. Probably this is just wishful thinking (human kind always pushes boundaries and make things more "extreme") but I wish for tasteful nudes, not objectified, open-leg dolls…
We've talked about the current state of glamour, boudoir, artistic nudes, explicit work, adult and commercial nude photography – let's call the last 3 sub-genres adult photography. But where is it all going?
While none of us have crystal balls which will accurately predict the future, there are trends and indicators which might give us a glimpse into the future of the genre and its subgenres.
General Trend: First off, adult photography isn't going anywhere (if going anywhere means it's going away) in terms of its appeal to both photographers and fans. Its appeal will remain about the same and, if anything, will likely grow in popularity. Why? Because there is an ever-increasing easing of what's considered taboo and off-limits in digital space that is easily accessed by the masses.
Sixty-something years ago, a brand new magazine called Playboy startled the world with its tasteful photographic depictions of beautiful, naked women. Prior to that, most of the photo images featuring female nudity were, for the most part, left to nudist magazines, French postcards, and pornography. Playboy changed all that. From the very first issue of Playboy magazine it represented, what's often called, a "game changer."
Nude photography, as you have discovered over tthe last few articles, is a widespread term. From "hard core" nudes to implied nudity, it all exists under a big umbrella called nude photography.
Implied (or inferred) nudity for example is toying "eroticism" without revealing nudity in any ways and are acceptable to "G-Rated" and PG-Rated audiences, or to certain viewers within various demographics. For that reason, implied nudity utilized, often enough, by advertising companies and marketing agencies in their campaigns. It's likely we may see more and more implied nudity in advertising campaigns, despite what social media platforms, PC run top-down countries and other (constructed) societal constraints are trying to limit us.
Commercial(-Like) Nude Photography: Offline & Online
Commercial nude photography is a sub-section of the general term "adult photography" and, perhaps, one of the most competitive segments in the adult-niche photography markets. (Besides or beyond the X-Rated industries which are highly competitive as well.)
Commercial nude photography, to put it simply, comprises the sorts of photos you would expect to see when you are perusing the many "men's" magazines on the racks at your local newsstand.
Print media focusing on nudity as eye candies between some other (commercial) articles are generally in decline (speak dead), these magazines are before extinction. But more than a few internet websites featuring nude photography can also be classified as utilizing commercial nude photography. In fact, the internet offers the best opportunities for newer photographers aspiring to shoot commercial-inspired (implied) nudes. The raise of special interest sites/e-mags like Lions Mag , Elléments Magazine , B-AUTHENTIQUE , NUVU , NORMAL Mag , Treats! etc. confirm the trend.
Yet, there's no money to be made. Exposure: yes. Building connections: yes. Being a motivational goal to grow as a hobbyist from beginner to serious: yes. But making a 100% living baes on it: n.
Beyond Regular Nude Photos: Explicit Nudes
Beyond the commercial(-like) nude photography genre is the approach of explicit nudes. Can explicit nudes also be considered the new commercial nudes?
Artistically speaking, there's much debate among us photographers on this one. Explicit nudes are the sort of nudes that either straddle the fence (= look) between glamour and other "soft-core" nudes and pornography, or they reside within the realms of porn. While explicit nudes may not contain hard-core sex acts, these "on the border" photos often go all-out, revealing the model's private parts, sometimes in all their "pinkish" glory, rather than implying or suggesting it.
Of course, the explicit nude photography genre is commercially (= making money) a successful one. But – as mentioned in an earlier article – rather for the site operators than the individual photographers.
Your Photographer Career Needs Determination And Flexibility
Although these are challenging times for photographers to get into the nude niches of adult photography, they are also exciting times that are offering new opportunities. If you're a new-ish, budding photographer interested in finding a place in the sexy women photography business, you must be prepared to adapt with the times. You need to have the "right stuff". And the right stuff isn't merely about gear and skills, it's also about determination and flexibility.
Believe it or not, there is an ever-growing demand for great quality photos of hot girls as also the need for contemporary, alluring, and classy imagery for female clients. If you are a photography enthusiast willing to invest in learning and practicing the skills necessary to succeed in these ever-growing markets, you will likely find those markets to be amazing and fun to be a part of. It won't be easy but things that are amazing and fun are less often easy to come by.
And as you know and in order to motivate you on your path: "Everything you have ever wanted is on the other side of fear" (George Addair). So, keep going!
Are You Up for the Challenge?
Publications containing "beyond the nude" photography have become hugely popular. And some of its major (offline) players indeed appear to have that market fairly-well sewn up. But fairly-well sewn and completely sewn aren't the same things.
But if you are serious about your pursue to make (some) money with any of these genres, then don't let the difficult challenges put you off of your adult photography career! Whether you want to shoot more explicit imagery with daring style or opt for the timeless and classical styles of adult photography, opportunities await.
As a proof that your goals actually are achievable and dreams can come true (if you make them goals), here a recent accomplishment from a fellow photographer of mine: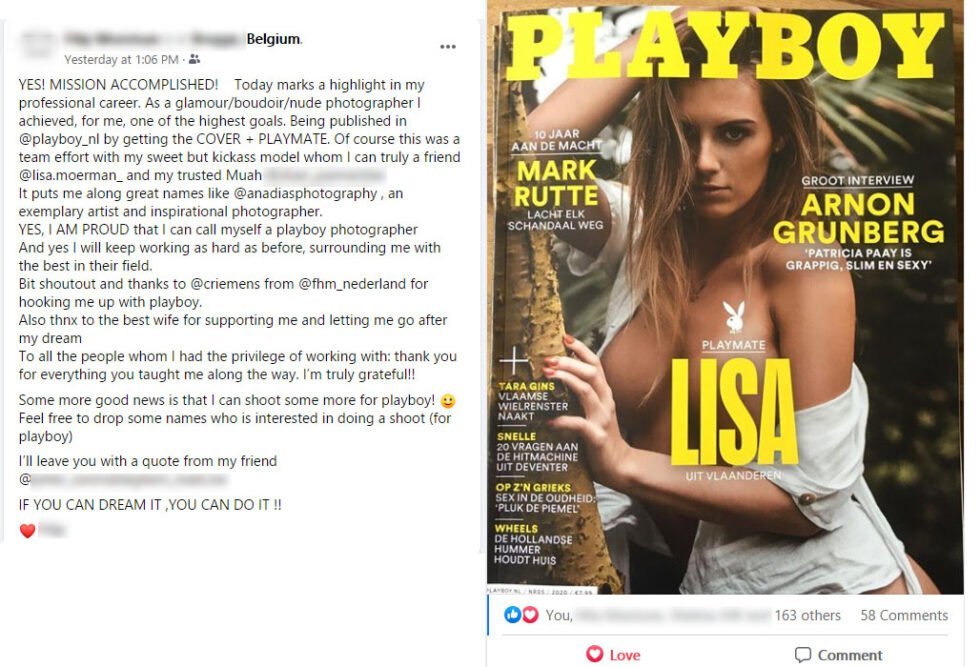 A Last, Personal Note
I prefer to shoot nude photography that is of the classic styles: tasteful and classy. For me, it's mostly about art showcasing the human body. That's what excites and drives me as a photographer, certainly more so than the harder-core shots which, for me, are often a bit too up-close and personal. In my mind, the latter is better served-up by the X-Rated industries.
But that's certainly not to say both don't have their places or offer continuing opportunities. There are crowds of viewers hungry for both types of images and I don't judge anyone, photographers or fans, from either camp. I do believe it's important to distinguish art from porn but I'm not, in any way, prudish about the latter.
Thanks for reading.
Author: Dan Hostettler

A traveler at heart, inspired by women, working along Swiss precision.
Dan is a mediapreneur, photographer, author of several books, owner of StudioPrague and Founder + Editor in Chief of SexyWomenPhotography.com. Being a successful photographer for more than 15 years Dan got internationally published and featured on/in GQ Online, The India Times, FashionONE TV, FotoTV, GoodLight Mag, amongst many others.
Dan is currently residing and working in Prague, CZ, conducting nude photography workshops, productions and pushing educational formats to a new level.
Consider a Small Donation?
Your donation helps to sustain, create and regularly update the free content for you.
I love offering my knowledge to you and a small token of appreciation helps to keep the lights on.
Thank You!
Consider a Small Donation?
Your donation helps to sustain, create and regularly update the free content for you.
I love offering my knowledge to you and a small token of appreciation helps to keep the lights on.
Thank You!