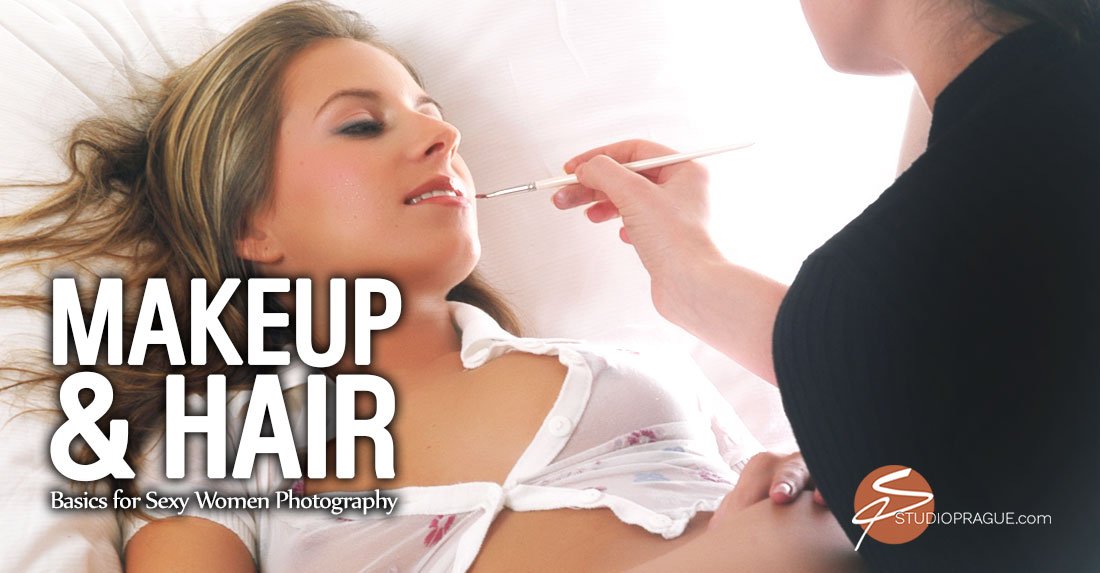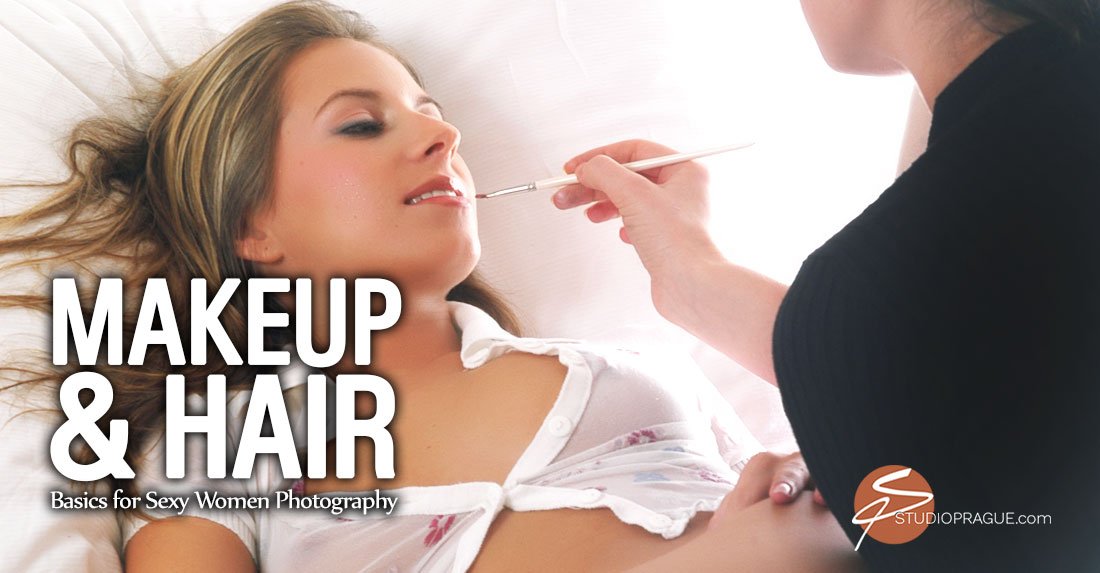 [Part 22/23 | Module 4: WORKING WITH MODELS]
Makeup for photo plus hair styling is another crucial aspect in the field of Sexy Women Photography. The challenge is that most photographers are not experts in photo makeup.
While makeup and hair aren't skills photographers need to learn, they generally remain wildly important elements to excellent glamour – and even nude – photography results. Excellent alluring photographers have, leastwise they should have, above average knowledge regarding how makeup and hair can impact and improve their photos.
You may not know how to apply makeup to our models or arrange their hair, but you should have a trained eye for recognizing suitable makeup and hair. It's one of those "I know it when I see it" sorts of things.
Terrific makeup artists and hairstylists – often, they're the same person, called MUHA – can add much value to your glam/nude photography. In many instances, your model will be responsible for her hair and makeup. Most models, certainly those with experience, are skillful in applying their makeup and doing their hair. Some of them are adept at doing so in a range of different styles.
Most models know what looks best on them – colors, levels of application, and more – and the various styles of makeup and hair that make them look best. After all, they're models. They're in the business of looking good and, for them, makeup and hair are a key component to looking good. Many models have taken the time to learn and practice applying their makeup and doing their hair in ways that not only make them look good in their private lives but in front of a camera as well. Some of them have even studied, more formally, the art and craft of makeup application.
Even models, make that women in general, who are considered "natural beauties" know the value of makeup as well as hairstyles that suit and enhance their naturally-beautiful faces.
How To Deal With Makeup & Hair
It's always a great idea to have a vision in mind regarding the appearance of your model when you're shooting her. Often enough, it's as easy as letting your model know what you're looking for in terms of her makeup and hair prior to your shoot. But in order to communicate your ideas to the model, you need to have a decent level of understanding regarding these elements.
Once your model arrives at your location and assuming she's doing her own makeup and hair, you might find your model has overly "glammed" herself applying her makeup – more so, that is, than you had in mind. No worries! Most models know how to adjust their makeup even after they've initially applied it. It might take some extra time but, on the other hand, it might be worth that extra time.
At other times, you might find your model hasn't applied enough makeup, i.e., it's not glamorous or heavy enough to suit your vision. Again, no worries. Like cooking, you can always add more salt. And it's easier to add salt than to reduce the salt you've already added. You see, your knowledge of makeup and hair will certainly help you provide creative inputs to your model.
TIP: When shooting with strobes, the light is very intense, albeit brief. The intensity of the light will often cut through some of the makeup that's been applied to your model's face. Flash lighting will generally reduce the appearance of makeup by about 20% or more. That's why makeup for glamour photography is applied quite a bit heavier than it is for daily life. While the makeup might look overly piled-on in the ambient light at your location but, in the photos, after the artificial lighting has taken its toll on it, it won't appear as heavy. The more experienced you become, the more you'll be able to recognize makeup that, while appearing very heavy, might instead be perfectly applied for your photography.
Preparing Yourself – And The Model – Before The Shooting Day
It makes sense to do a bit of research regarding things you're not an expert on, perhaps not even possessing an average layman's expertise. The good news, at least when it comes to makeup and hair, is that researching these elements can be as easy as thumbing through a few magazines, especially magazines with plenty of glamour and nude photos between their covers. Since we are living in a digital age, such researches can be done online on Pinterest
While many of the models (especially in printed mags) may have had their hair and makeup done by professionals, you'll still learn by carefully examining the photos, taking particular note of the beautifying of the models. On the internet, it might be a good idea to download some of the pics onto a mobile device to show them to your model before she does the makeup routine and hairstyling. Doing so doesn't mean much more guarantee that your model will be able to match perfectly what you've shown to her, but it will certainly give her a good idea of what you're looking for. This sort of approach works very well as your model will have a ready reference point.
It will be much easier for her to replicate, as best she can, and adapt, or mimic, the styles in the photos to her application of her makeup.
Nude Makeup: The Natural Look
When shooting nudes, makeup and hair isn't always "glam". There are plenty of times when you will want less makeup applied. The old phrase, "Less is more," can work for many styles of nude photographs. If you're working with a professional MUHA you'll only need to tell the MUHA you're looking for "glam" or more natural. Most models will also understand this direction. Just remember that 20% rule about makeup and flash photography. If you want your model to look natural (with makeup applied) the makeup may still look a bit too heavy in the ambient or available light but look perfect in your photos. Once again, the experience will teach you to recognize these things.
Makeup, like pose, expression, wardrobe, and location, can help tell the story in your photos in big ways. Maybe that looks vamp-like makeup, or perhaps something rather gothic, or "goth," tells one sort of story, while makeup that is natural and light tells a very different one. So many stories and themes can be punctuated with the right beautifying. One interesting aspect of hairstyles is that you can often date the approximate period in which the photo was snapped by the hairstyle worn by the model. If you're looking to shoot pin-up style nudes, the hairstyles you'll want will be very different from the hairstyles you will likely prefer if shooting a surfer girl on a beach. Yet, if you're shooting a pin-up styled surfer girl, those differences might be much less.
It's up to your vision and concept to determine the look, they're your photographs so it's your decision. If there's a photographer whose glam/nude work you particularly enjoy, perhaps examining his or her photos in terms of beautifying & looks will help you decide which way you prefer to go with these elements.
Glamour Makeup
As already discussed, glamour makeup is quite different from natural-looking makeup. When you want your model looking particularly glamorous and alluring, i.e., you're creating much more of a fantasy girl rather than the often-mentioned, "girl next door," glam makeup is the way to go.
Generally, glam makeup means the makeup will be more heavily applied, with greater emphasis on things like cheek rouge, mascara, eye shadow, and eyeliners, and bold colors for the lipstick. Long artificial eyelashes are also a commonly-seen component of glamour makeup.
Nails! They're (Very) Important!
Nails (= style thereof) are important elements of any appealing photo and concept. Your models' nails should look good. Look very good! The styling isn't complete without good nails.
If you are going to show your model's hands, and very few photos that are either ¾ or full body shots don't reveal the model's nails, the model's nails are as important as makeup and hair. Scaly dry hands with chipped or uncared-for nails don't look good and most definitely are not in line with most viewers' visions of beautiful, alluring, models.
Fortunately, most models, almost certainly experienced models, tend to their nails regularly. It's not too often you will be faced with a gorgeous, experienced, glamorous model who has forsaken her nails or the soft suppleness of her skin, including the skin on her hands and arms. But it can happen. That's why it's also a good idea to mention nails to your model before your shoot. Just mentioning it will often motivate your model to do something about her nails before the shoot if she doesn't routinely care for them in extra-special ways.
Choosing A Hair Style That Matches Your Theme
Again, this has already been mentioned, but it's worth mentioning again: Every picture tells a story.
You must surely have a theme or vision for your pictures and the stories they will tell. Your model's makeup and hair should match whatever theme or vision you intend to shoot. Hairstyles can be a huge component of your vision. Like wardrobe, environment, and more, hair enhances a story. Often enough, not only will your model's hair be something of a final touch to her overall presentation, it might be the very important touch to telling your story.
However you instruct your model to arrange her, it must be in line with your theme or story. You can choose from a wide variety of looks: glamorous, teen, pinup, burlesque, high-fashion, and others. There are specific hairstyles to match each of those looks. In fact, there are quite a few to implement per look. Just be mindful of choosing one that matches your theme or vision.
Conclusion
While you might not be an expert in makeup & hair, and you don't need to become an expert, you should still be well-versed in how these crucial elements will affect, positively or negatively, the images you intend to shoot.
Armed with your theme and a good understanding of beautifying, you will better be able to guide your model towards the look that best reflects your vision you want for the photos.
If you're working with a professional MUHA, you'll also be better equipped to explain your expectations they will be creating for you and your model.
Oh, and yeah, here a few more tips in another article I wrote: THE NUDE BODY – THINGS TO CONSIDER BEFORE YOUR NEXT SHOOT .
Thanks for reading.
Author: Dan Hostettler

A traveler at heart, inspired by women, working along Swiss precision.
Dan is a mediapreneur, photographer, author of several books, owner of StudioPrague and Founder + Editor in Chief of SexyWomenPhotography.com. Being a successful photographer for more than 15 years Dan got internationally published and featured on/in GQ Online, The India Times, FashionONE TV, FotoTV, GoodLight Mag, amongst many others.
Dan is currently residing and working in Prague, CZ, conducting nude photography workshops, productions and pushing educational formats to a new level.
Consider a Small Donation?
Your donation helps to sustain, create and regularly update the free content for you.
I love offering my knowledge to you and a small token of appreciation helps to keep the lights on.
Thank You!
Consider a Small Donation?
Your donation helps to sustain, create and regularly update the free content for you.
I love offering my knowledge to you and a small token of appreciation helps to keep the lights on.
Thank You!