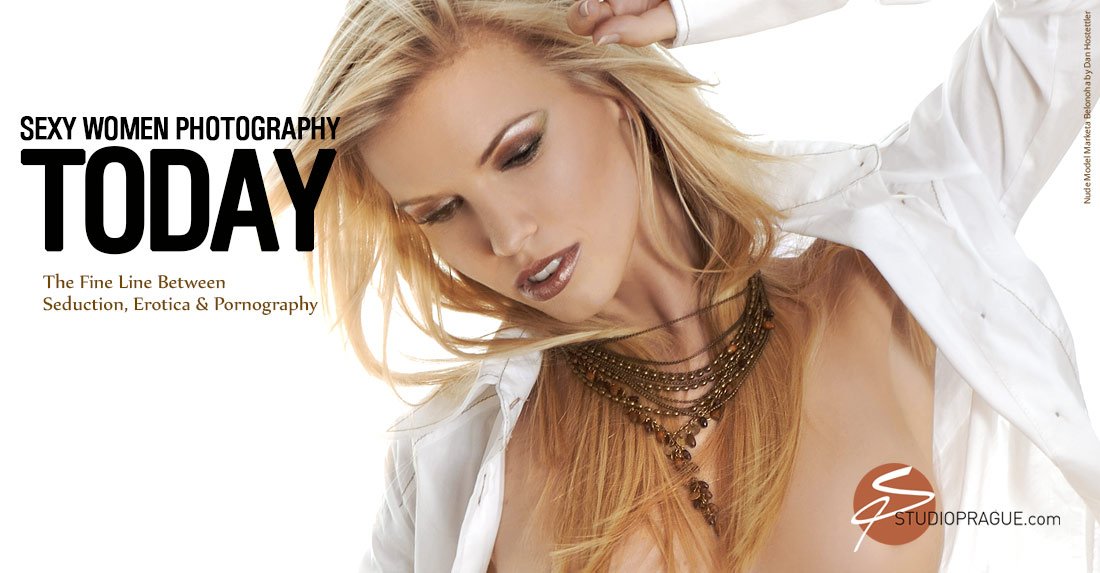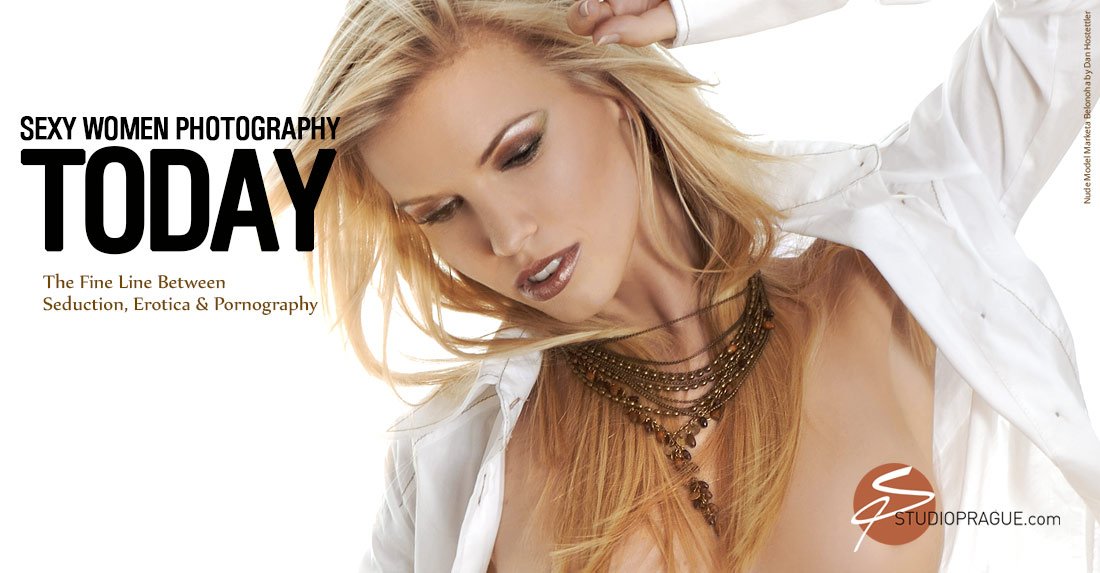 [Part 01/23 | Module 1: STYLES & GENRES]
The best nude photography is either artistically depiction, or suggestive and revealing, but never explicit!
The Evolvement Of Nude Photography
Photographs of the nude female, as creative work and – of course – professional created "seduction" versus (exciting?) erotica or shallow pornography, has been an art vs. smut battle that's raged for now more than a century. I guess actually since cameras first became available to many.
Today, with everybody having any sorts of a camera at hand, shooting models locally in a camera club or dedicated sessions with traveling models, model sharing… – you name it…: I feel that it's more important than ever before for you to understand the (gradual) differences going from artistic nude depiction toward erotic porn.
Recognizing the differences will help you in articulating your style more precisely (when arguing with your wife or girlfriend, that is), equips you with some basic guidelines when searching/booking a specific model for a specific work type/genre, and will help you in your philosophical assessment about where your boundary (of taste) lies.
It's going to take more than intellectual understanding, of course, but it's a start, it's where I recommend we start our theoretical journey together.
The Evolvement Of Nude Photography (Hint: It's More "Sex-Positive")
Over the years, attitudes regarding nudity in photography have changed and evolved with each new generation. Each generation's perceptions of nudity in art, photo art or otherwise, have changed along with it. In some ways, it's changed so much that the line between art and porn has become even more blurry.
Just look at some of the examples we all know: Hegre.com , SexArt.com , Michelle-7 Erotica and others.
In recent years the porn industry has, in many ways, embraced a higher level of taste (for lack of a better word) in their uses of explicit photographs (well, videos), leastwise for their product packaging, advertising, and marketing purposes. So it's eminent to understand and dissect these differences before you take your first shooting-steps in your sexy women photography journey.
A Very Brief History And Overview Of Photography And Nudity
Nude photography was in early stages nothing else than the continuation of the forms of nude subject paintings, historically speaking.
Depicting nude women of all sorts has been around nearly since the birth of the camera. And, interestingly enough, then as much like today, the earliest photos featuring nudity relied heavily on the sorts of sexy, borderline-erotic, female presentations . Here a few more tidbits: Nude-O-Rama
Sure, what was considered "sexy & exciting" then might not be so thrilling today but the cumulative effect of so many decades of artistic nude photography (150 years kinda), drives how we perceive nudity in modern-day photography.
In other words, artistic and commercial nudity is no modern-day invention (meaning Flower Power movement.or alike).
Adult models have been featured since the Age of Photography began. However, due to the advent of digital photography, it's easier than ever to break into this genre for every one of us. At least technically speaking…
Isn't Today's Nude Photography Just Porn Masquerading As Art?
Different people will give you different answers to that question depending on their personal beliefs; oftentimes based on religious and moral beliefs.
Those who think differently than us, less "liberal", will always continue to struggle with the concept and intent of nude photography and likely never change their opinions of it.
For that reason, it's probably a supreme waste of time to try and convince them otherwise.
But, some people like you probably do have the belief that creating art nudes or teasing glam nudes have absolutely nothing to do with creating porn. Welcome to the club, my friend!
Shooting adult photos that may allow you to earn a (part-time of) your living or simply being a creative outlet as a hobby is a terrific thing to do! But I genuinely need you to understand that cheap implementation will bite you in the ass.
Failing to not see and feel those differences (and boundaries) right from the outset may result in you wasting time, resources, your hard-earned money, and damaging your reputation.
Why Is It Important To Know The Differences?
The best (and sexiest, for that matter) alluring photos have never been explicit and visually cheap. Even most actual, working pornographers understand that concept. While the line between porn and nude photography isn't as blurred as some might think, some parts of porn offers are trying hard to adapt (leveling up) for clean, alluring, and seductive glamorous (or natural) aesthetics.
The Supreme Court of the United States, when deciding what constitutes obscenity, said they can't define obscenity but they know it when they see it. Recognizing what constitutes smut, porn, or even obscenity in nude photography is an awareness all photographers looking to learn to shoot high-end, commercial-quality nudes, client boudoir, attractive beachwear series, catalog lingerie, etc. need to develop.
A conceptual understanding, specific distinctions, visually aesthetic execution and technical aspects related to all of this, is what the next 22 parts of this course are about. Plus, of course, working with various model types (it's a people business) for the different genres ("Packaging"/Keyword Tool, as I call it ).
How Do You Draw The Line Between Erotic Captured Nudes And Pornography?
The true appreciation of the nude female form presented as works of aesthetically-driven seduction is likely a base requirement for shooting non-pornographic images. There is a difference between photos snapped intending to produce base-instinct arousal and something on a higher order of thinking and appreciation.
Your mindset will guide you in how you present and photograph your adult models and/or female clients. If your mind cannot help but remain in the gutter, this course probably isn't for you. If you're looking to produce something more appealing, something more captivating, then you've come to the right place.
So, Erotic Nude Photography as the name suggests is captured and presented in a manner which arouses sexual thoughts or feeling in human beings. Petter Hegre is arguably the most accomplished and successful erotic nude photography artist in the world. His website is one of the major destinations for the seekers of the erotic portrayal of some of the most beautiful women in the world. The portrayal of women (well, let's say girls) on Hegre's site borders on pornographic if not exactly so. Unfortunately, this type of work is also the major reason for the inherent stigma surrounding Nude Photography in our times (even if young liberal folks always point out that's "sex-positive; doesn't help much, does it?).
Dan's Erotica vs. Porn Definition
Erotic Nude Photography is sex done with the camera. Erotica seduces and provokes via storytelling, facial expressions and gestures (i.e., posing and expression).
Erotica that is borderline pornography: Today's MetArt, Hegre, and Hustler-style websites and magazines featuring explicit open legs, having series depicting intercourse, and much more.
Pornographic Photography is sex with another human being.
In conclusion: Approaching sexy photo shoots with an artistic eye rather than with steamy lust will yield dramatic differences in your photography, help you to produce terrific quality images, even when they're intended to be highly suggestive.
JimmyD's Three P's Of Porn
JimmyD, the Pretty Girl Shooter and adult industry veteran who shot adult glamour for decades in CA (USA) once came up with what he calls his Three P's of Porn. It's humorously designed to help people recognize porn (versus art or glamour) in photography when they see it.
Pink (You know what I'm talking about).
Penis (Hard).
Penetration (Again, you know what I'm talking about.).
Choose Your Own Boundary
Shooting female private client assignments, models, any gals: As popular as it has become, it is still a highly subjective form of art (business). Images one person may consider perfectly acceptable pieces of "normal" work may be considered by others to be too far, too explicit, too porny.
The drive depicting female beauty is as old as photography itself. As attitudes and opinions change and evolve, so do our attitudes and opinions of the role of sexy women photography in art, as well as how to compose the perfect, alluring photo.
Nude photographer, erotic connoisseur, or pornographer? It's your decision.
Thanks for reading.
Author: Dan Hostettler
A traveler at heart, inspired by women, working along Swiss precision.
Dan is a mediapreneur, photographer, author of several books, owner of StudioPrague and Founder + Editor in Chief of SexyWomenPhotography.com. Being a successful photographer for more than 15 years Dan got internationally published and featured on/in GQ Online, The India Times, FashionONE TV, FotoTV, GoodLight Mag, amongst many others.
Dan is currently residing and working in Prague, CZ, conducting nude photography workshops, productions and pushing educational formats to a new level.
Consider a Small Donation?
Your donation helps to sustain, create and regularly update the free content for you.
I love offering my knowledge to you and a small token of appreciation helps to keep the lights on.
Thank You!
Consider a Small Donation?
Your donation helps to sustain, create and regularly update the free content for you.
I love offering my knowledge to you and a small token of appreciation helps to keep the lights on.
Thank You!