Take Control Of Lighting!
Studio Lighting Blueprints: Theory, Showcases & Exercises.
feat. Jenni Czech & Melisa Mendini – by Dan Hostettler
eBook (PDF) | Immediate Download
Easy and Secure Payment via PayPal & Credit Card. | *Country-specific VAT taxes may apply.
The material will be delivered to your email address in digital form.
If you don't like this guide for any reason, I offer an unconditional 30 DAY MONEY BACK GUARANTEE.
Juice Things Up!
Does studio lighting scare you away?
Too many lights, light modifiers, gear and stuff?
Have you never ever worked seriously with studio equipment?
Are you curious about improving and evolving your style?
Read on!
This book delivers the perfect "one size fits all" access: for newcomers, amateurs, aficionados, even versed pros – there is always something new to explore whether it is fresh from scratch or just tidbits.
Surely theory is based on century old common knowledge, yet the ground to start your new excursion is based on my personal trials & errors, my inspiration and my implementation and execution experience gathered over the last 15 years.
Let yourself be led by exploring my settings, creations, ideas and last but not least my intriguing imagery.
The Big Picture & Training for You!
My concept and art direction in this book is simple: Step by step, I am depicting and explaining all the equipment involved, providing you with the theoretical aspects in more detail and leading you to advanced, yet simple to understand lighting setups.
The big picture ultimately follows one simple principle: Setting you back on square one later on and letting you start over with just one light – at your home, in your dedicated studio space, wherever you work. Once you have gotten the full comprehensive oversight, you will better understand how to handle a simple One-Light-Setup.
Learn While Exploring
Besides the hard facts, theory, infographics and some fun elements, I absolutely "want to educate you with some real eye candies"; applied in form of the visual 3D lighting illustrations and the alluring imagery with Jenni Czech and Melisa Mendini.
The extra provided 2D set plans will help you in studio when you start replicating, tweaking and evolving your own lighting designs.
Jenni, Melisa and I were working real hard for over month in order to create the concept and content for this book. And now, I am more than happy to let you get started with your new, delightful journey on the tracks of "Essentials. Studio Lighting in Nude Photography"!

Topics, Insights, & Dan's Approach
Guide Parts: Theory, Showcase & Challenge Yourself
Comprehensive & Extensive Theory Part
Easy to Follow Illustrative Practical Knowledge and Tips
Understanding Light & Lighting: Directions, Shadow Casts, Light Fall-Off
Light Source Sizes, Hard & Soft Light, Light Ratios
Photo Light Functions & Light Placement
Catchlights, Moods & White Balance
Color Spaces, Shutter & Dan's Exposure Triangle
Get Your White Balance Right in Lightroom & Photoshop
Metering & Triggering
Different Flash-Heads: Monolights & Pack System
Everything about Light Modifiers, Softboxes vs Umbrellas, Beauty Dishes
Modifier's Sizes, Shapes and Sweet Spots
Grids, Reflectors, Light Stands & Support Stuff
Light & Camera Settings
Specific Lighting Analyzes in the Showcase Part
Beauty Dish: Dan's Fast Glam Example
19 All-Inclusive Case Studies with Equipment List, 3D Lighting Designs & 2D Set Plans that You can Replicate
Build Your First Lighting Setup
Challenge Yourself! Dan's 4 Additional Lighting Setups for You: Train and Create Your New Lighting Ideas and Designs
Revealing Behind the Scenes Imagery All Over the Book: Observe the Insights
Fundamental knowledge, trainings and inspirational visual lighting guide
Extensive theory part to strengthen your practical work
Full equipment lists for beginners & pros (that Dan's uses himself)
High quality nude imagery: 19 different sets & theory part imagery
Images with famous nude models Jenni Czech & Melisa Mendini
19 all-inclusive case studies/lighting setups for 1, 2, 3 & 4 lights (+ reflectors)
All technical parameters used during the exercises
Comprehensive 3D lighting setups from different point of views
Detailed explanation on light directions, impacts on shadow casting, light interaction and location composition
280 pages in total
Over 80 illustrative simulations & descriptions in 3D
Over 80 lighting-design images in 3D (POVs)
Over 220 behind the scenes & illustrative images
30 illustrations
150 tasteful nude images in 19 sets and theory part
12 light pattern analyses by Dan
19 lighting plans (2D) for replicating situations at your end
Instant PDF download for immediate use on your PC, Mac, iProducts & Droids
BONUS: 13 lighting sets for limited time use with set.a.light.3D
BONUS!
Get 13x 3D Lighting Setup Files from this book for exploring & tweaking my light-designs on your own!
Download a full version of set.a.light.3D today at NO COST (PC or Mac)! No credit card info required, just your name & email!
Walk through setups & change any settings for full 15 days. Play around! After the trial period ends you decide if you want to buy the software for a discounted price to plan your own lighting setups – taking control of your lighting!
About the Author: Dan Hostettler
Dan has been a professional Sexy Women Photographer for more than 15 years.
He is Swiss born and currently living and working in Prague (Czech Republic). Dan founded his flagship business, StudioPrague, which includes a dedicated production company that has received international recognition and offers private, high-end workshops. Dan has had the pleasure of photographing some of the world's most beautiful female nude models and he always strives to capture that "bold sexy moment", both in the studio and on location.
Aside from his own creations, Dan is an internationally published photographer and his work has been featured – among others – in GQ Online, The India Times, FashionONE TV, GoodLight Magazine, MUZE Magazine, FOTOdigital, and FotoTV Germany.
In this eBook, Dan shares his extensive knowledge and insights in an easy-to-follow, visual and intuitive way. It will help you build a comprehensive foundation for your studio lighting knowledge. It will also inspire you to train and create your new lighting ideas and designs.
Fast-track your studio lighting journey! Let Dan teach you his various, exciting styles and start to implement simple lighting and various moods in your future shoots NOW!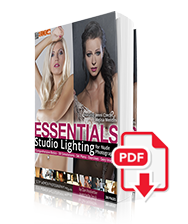 eBook (PDF) | Immediate Download
Easy and Secure Payment via PayPal & Credit Card. | *Country-specific VAT taxes may apply.
The material will be delivered to your email address in digital form.
If you don't like this guide for any reason, I offer an unconditional 30 DAY MONEY BACK GUARANTEE.