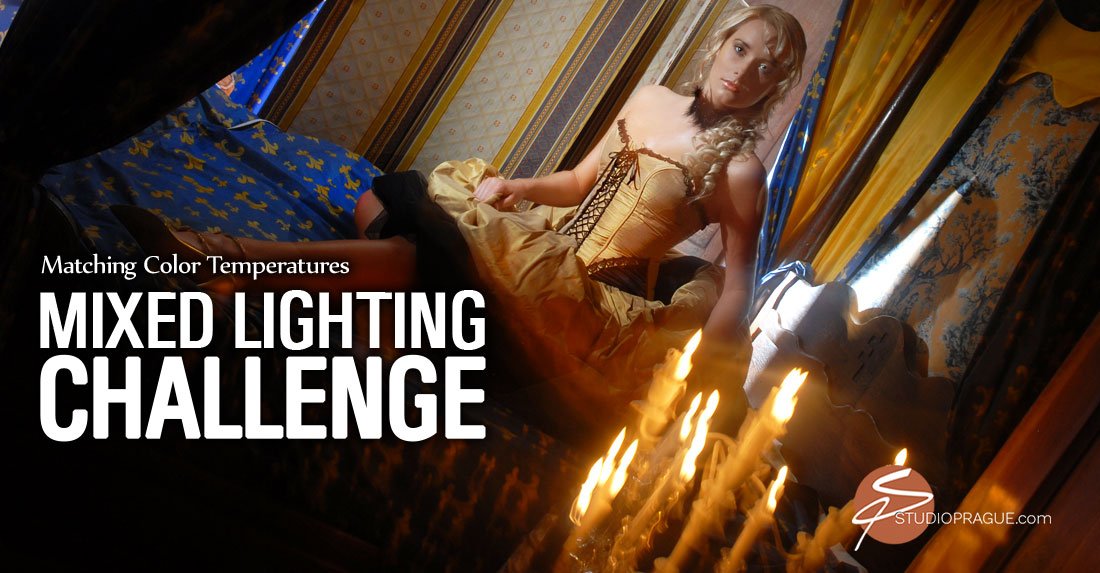 [Part 18/23 | Module 3: MASTERING THE LIGHT]
Mixed lighting refers to an environment that is illuminated by different light sources having varying color temperatures.
Adjusting or setting your camera for the appropriate color temperature can be as important as your exposure adjustments and settings. The color temperatures of different light sources will vary widely.
For instance, the sun, a candle, and incandescent bulb, florescent lights, or a flash light all produce light at different color temperatures. Some of them lean towards the reds and yellows, the warm colors, and others towards blue, the cool colors.
When different light sources are illuminating your model or your shooting environment, it's referred to as "mixed lighting."
The graphic below displays a variety of color temperatures photographers often work with, and how to match color temp settings to get the best results for your photographs.
More About Mixed Lighting
Human eyes and brains automatically recognize the light of different color temperatures and match the light to the appropriate colors. Unless someone is color blind, red appears as red to everyone. Blue appears as blue and so on. Our eyes can also automatically blend the color of light from different sources, that is, different color temperature sources. By doing so, varying shades, tones, and hues appear the same to most people.
Your camera, on the other hand, is not as smart as you. It's not smart at all. It can only do what you tell it to do or what some programmer told it to do. It cannot, on its own, accurately decipher varying color temperatures without some help from you, the smart photographer. While it's true that many cameras have an AWB setting (Automatic White Balance), when using this setting your camera is taking its best guess at the color temperatures – via a sensor and instructions from a programmer – in front of it. Once you learn how to set your White Balance (WB) properly, however, you'll be helping your camera do a much better job, a more accurate and precise job, of recording the proper color temperatures for the scenes in front of you.
Why do we need to set our camera to record the proper color temperature white balancing? For one thing, white is a combination of all the colors of the color spectrum. Secondly, if you tell your camera something is white, and you use that white to set your White Balance, all the rest of the colors in the spectrum will fall properly in line when snapping your photos.
Manipulating The Color
There are a variety of ways to trick your camera into producing colors that are different from what they are.
It can be accomplished, for instance, by white balancing on something that is not exactly white. Example: If you WB on a sheet of paper that has a slightly blue-ish tint, you will trick your camera into believing that blue-ish white is pure white and, in so doing, the camera will record color in ways that are slightly different from the actual colors in the scene. In this case, by using a blue-tinted "white" sheet of paper, the colors recorded will be warmer, i.e., lean towards the reds and yellows. Warmer colors, by the way, are often preferable when shooting nudes because skin tones will be recorded as being warmer and warm skin tones are generally pleasing to the eyes and minds of viewers.
Whenever you're combining strobe lighting with some other source (which is not daylight balanced) it's important to balance the strobe's color temperature with, for example, a gel or a filter. By so doing, you can make the strobe match the color temperature of the other light source or vice versa. Sometimes, this requires some trial-and-error. What's important is that you do your best to adjust for all the sources of light and get it as close as you can. You can make further adjustments when post-processing your images.
⬆ Here is an example to help you understand how this works: ⬇
Let's assume you are taking photos inside a room that is illuminated by fluorescent lights (not daylight-rated florescent.)
If you want to use flash to light your model, you can apply a light-green gel to the front of the strobe.
If you are then white-balancing to the color temperature produced by the florescent lighting, the gel will make the strobe produce the same or similar color temp as the florescent lighting is producing, which is somewhat green.
By using a sheet of white paper or something else that is white, and using your gelled strobe to light the white paper and then following your camera's operational instructions for a custom WB setting, your entire shooting environment will be, for the most part, uniformly the same in terms of color temperature.
Combining Multiple Light Sources
You certainly might face challenges when there are multiple light sources present, producing different color temperatures. If household lamps, fluorescent fixtures, and Northern window light are all present, it may cause you a slight headache in your attempts at dealing with them all. But then, challenges are part of the fun of photography. If you're not having fun with photography, why bother?
Here's a tip: If you cannot manage to get mixed color temperatures properly balanced in ways where they're all "getting along with each other," use the primary light source falling on your model to adjust your color temp. If it's a flash, the color temp produced by the flash is the way to go.
After all, in the end, especially with nude photography, it's all about skin and skin tone.
Here are some other things to try:
Snapping multiple exposures, one for each light source. You can correct each of them with the right filter or by changing the setting of the color temperature in your camera. This is one option, albeit one that requires some extra work, both when shooting and when processing the pics.
Using the appropriate colored gels and covering all the light sources individually to make them neutral, color temp wise.
Simply allowing the color temperatures to fall where they fall and to stop worrying about them. As long as the skin tones look good, that's what matters most. More than a few photographers have snapped great photos without making corrections to the color temperature, leastwise while shooting. (If that's what you're going to do, it's probably a good idea to shoot in RAW so that you can adjust the color temps in post.)
Here a few other tips:
The warm glow of household lights can be effectively used for adding a warm mood, especially in nude photography.
Using window light can be especially pleasing when shot effectively.
Fluorescent lighting can add an interesting and surreal green-ish glow to the background.
A Real World Example Of Mixed Lighting
The most common example of mixed lighting occurs in situations where an inside room is lit by both tungsten light (normal light bulb light) and window light. Tungsten light has a warm, yellow-orange color temperature. Window light (which is outdoor daylight) most often has a blue-ish tint, certainly when compared to tungsten lighting.
⬆ What happens in these sort of lighting scenarios is the subject may end up photographed with a yellow-orange tint on one part of them, and a blue tint on other parts, that is, where the window light is most prominent. In that situation, it may be a good idea to add flash, perhaps by bouncing it off the ceiling, to have a consistent color temperature, leastwise on the model, and in her immediate surroundings.
The World Of Filters
In the video below, cameraman Robin Lambert talks about the various types of LEE Diffusion Filters and explains how to make the most of them in this new video from LEE Filters. Useful tips, advice, and examples for diffusion filters, frosts, and Flexi-frosts are discussed.
More Info About Using Gels:
Conclusion
Shooting in mixed lighting can be a challenge. Don't let frustrate you. Have fun! Approach these challenges as fun challenges. Not only will you learn to deal with them, but your learning will also open up new ways of shooting.
Just on a very last note: Whatever mixed lighting situation you might face, make sure that the skin tones are looking appealing. Skin color first, fancy environment color-balancing second.
Thanks for reading.
Author: Dan Hostettler

A traveler at heart, inspired by women, working along Swiss precision.
Dan is a mediapreneur, photographer, author of several books, owner of StudioPrague and Founder + Editor in Chief of SexyWomenPhotography.com. Being a successful photographer for more than 15 years Dan got internationally published and featured on/in GQ Online, The India Times, FashionONE TV, FotoTV, GoodLight Mag, amongst many others.
Dan is currently residing and working in Prague, CZ, conducting nude photography workshops, productions and pushing educational formats to a new level.
Consider a Small Donation?
Your donation helps to sustain, create and regularly update the free content for you.
I love offering my knowledge to you and a small token of appreciation helps to keep the lights on.
Thank You!
Consider a Small Donation?
Your donation helps to sustain, create and regularly update the free content for you.
I love offering my knowledge to you and a small token of appreciation helps to keep the lights on.
Thank You!